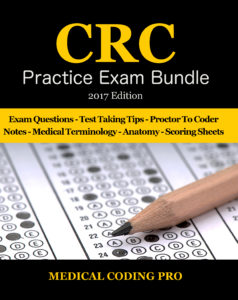 Overview
Product: CRC Exam Study Guide - 2017 Edition

What's Included: The CRC Exam Study Guide - 2017 Edition book includes 150 mock Certified Risk Adjustment Coder exam questions with answers, Medical Terminology, Common Anatomy, Tips to passing the exam, Secrets To Reducing Exam Stress, and Scoring Sheets.
Availability: In Stock - Ships USPS Mail 2-3 day delivery anywhere in the USA.

Price: $39.99      

Outside the United States? No Problem. CLICK HERE to order the INSTANT DOWNLOAD FILE ONLY and checkout with your credit card via PayPal.
If you have any problems with ordering please send us an email at support@medicalcodingpro.com and we will work it out.