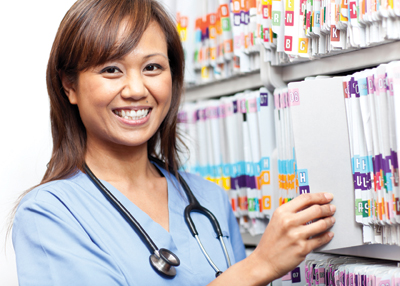 What is a Medical Coder?
A coder is the liaison between the doctor and the insurance company or government agency.
These highly trained and skilled personnel are a critical link in a medical business.
They must ensure that every procedure is documented and billed properly.
These professionals are not like the office secretaries of the past.
They are the wave of the future!
Should I get certified?
Yes! Certification is almost mandatory for a medical coding job.
The certification credential for physician and outpatient coding or inpatient coding are currently the only medical coding credentials recognized by employers, payers and government agencies.
If you are preparing for the certification exam we have some helpful information that will assist you in your preparation.
What are the types of certifications available?
The most common certifications come from two agencies, American Academy of Professional Coders (AAPC®) and American Health Information Agency (AHIMA®).
AAPC® offers three main certifications, CPC, CPC-H, and CPC-P. These are the most common certifications and the certifications sought after by employers. They also offer other specialty certifications plus Continuing Education Units (CEU's) required to keep a coders certifications current.
AHIMA® offers many certifications with the most common are Certified Coding Associate (CCA), Certified Coding Specialist (CCS), and CCS-P. These certifications are based more around medical records and health information. Most AHIMA® certification require more schooling or experience prior to taking the exams.
What is the average pay for a certified coder?
The average pay varies quite a bit depending on where you live, your experience, and your certification level. The good news is that the average salary has increased over 11% since 2007 and the industry continues to grow. Here is more specific information on coding salaries.
What is Medical Billing?
It is the process of claims submission to an insurance company or government agency for services rendered. Billers are responsible for gathering records of patient charges for medical services and issuing a bill to the patient as well as the insurance company.
Can I work from home?
Yes! The benefits of working from home are far reaching for both the employee and the employer. Many with families choose to work from home whenever possible, however, you should have experience and have built up a trust within the medical community.
Can I start my own Medical Billing business from home?
Just like any other business, it is very difficult if you don't have the right tools. I have found one of the most complete packages available including bonus package plus  everything you need to start your own Medical Billing Business. It is very user friendly and I highly recommend it!
If you are looking for work and don't have the time to search for a job you can post your resume to over 75 career sites like Monster, Hot Jobs, and Career Builder all in one place and save time.