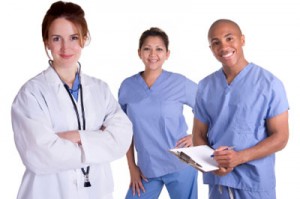 Medical billers and coders work for health care providers, preparing claims for insurance companies using ICD, CPT, and HCPCS codes so their employers receive reimbursement for services provided to patients.
You can become a medical coder through different avenues. Certificate programs are offered at technical colleges and medical trade schools, and generally take anywhere from one to two years to complete.
Associate degree programs are offered at community colleges and typically take about two years to complete. Many employers prefer graduates with associate degrees, and some even require candidates to be certified.
In order to become certified, graduates must pass the Certified Professional Coder (CPC) exam administered through the AAPC.
Take your CPC exam on your pre-scheduled test date. Expect the test to take up to five hours and 40 minutes and consist of 150 multiple-choice questions.
The position of medical billing and coding makes up one of the most important back-office careers in the medical and insurance sectors.
The demand for medical billing and coding specialists is on the rise as the Bureau of Labor Statistics states that employment in this field is expected to outpace many other sectors over the next several years.
Be prepared to learn a lot of detailed medical information such as classes in medical terminology, anatomy and physiology for medical coding.
Online medical coding training offers the flexibility to learn medical coding at home. This type of training prepares would-be medical coders in medical terminology, anatomy and physiology much the same as a course given on campus.
Medical transcriptionists and medical coders must possess a razor sharp attention to detail and provide quality work in a timely manner.
While you can work from home as a medical coder, you will still be accountable to an employer or client. Your success will be determined on the quality and timeliness of your work.
Medical Coders apply for jobs in hospitals, medical clinics, doctors' offices and insurance companies.
Most colleges also have career development centers. This is a good place to begin your job search.
According to the Bureau of Labor Statistics, the average income of medical records technicians, including coders, was $33,880 per year as of May 2009.
The lowest earners, at the 10 percent level, earned $20,850 per year. The highest earners, at the 90 percent level, earned $51,510 per year.
You can improve your chances of advancing to higher-paying supervisory jobs by obtaining a bachelor's degree or a master's degree. You can also qualify for better pay with specialty certification, for which you can prepare either through experience or formal study.