Taking the CIC™ Exam is one of the most important steps you can take to become a medical coder in a hospital environment. A Certified Inpatient Coder (Hospital) (CIC™) is comparable to the CCS certification from AHIMA.
The new inpatient medical coding certification standard, CIC (Certified Inpatient Coder), is the only certification dedicated exclusively to inpatient hospital/facility coding. The CIC validates expert level knowledge and experience in abstracting information from the medical record for ICD-10-CM and ICD-10-PCS coding, and specialized payment knowledge in MS-DRGs and Inpatient Prospective Payment Systems (IPPS). Invest in your future with the CIC™ certification—certified coders earn 40% more than non-credentialed coders.
CICs have demonstrated:
Expertise in medical record review to abstract information required to support accurate inpatient coding
Expertise in assigning accurate ICD-10 medical codes for diagnoses and procedures performed in the inpatient setting
Superior knowledge of current rules, regulations, and issues regarding medical coding, compliance, and reimbursement under MS-DRG and IPPS systems
Strong ability to integrate coding and reimbursement rule changes in a timely manner to include updating the Charge Description Master (CDM), fee updates, and the Field Locators (FL) on the UB04
Solid understanding of anatomy, physiology, and medical terminology required to correctly code facility services and diagnoses
Understanding of outpatient reimbursement methodologies (OPPS)
source: AAPC website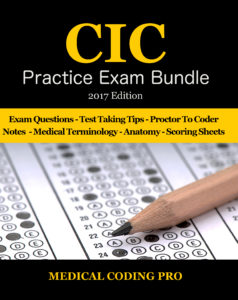 Overview
Product: CIC Exam Study Guide - 2017 Edition

What's Included: The CIC Exam Study Guide - 2017 Edition book includes 150 mock Certified Inpatient Coder exam questions with answers, Medical Terminology, Common Anatomy, Tips to passing the exam, Secrets To Reducing Exam Stress, and Scoring Sheets.
Availability: In Stock - Ships USPS Mail 2-3 day delivery anywhere in the USA.

Price: $39.99