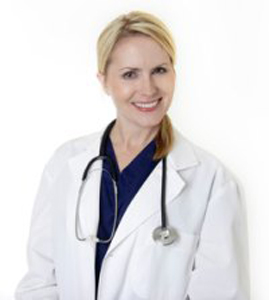 The Certified Professional Coder (CPC) certification is the industry standard for medical coding in the physician/ family practice area.
Preparing for the Medical Coding CPC® Exam is a very difficult task. It takes a tremendous amount of time reviewing material and preparing to answer questions within the time constraints of the exam (five hours and forty minutes). Your time must be allocated properly or you will never complete the exam.
The AAPC states that more than 60,000 individuals currently hold the CPC certification.
Certified Professional Coders on average earn 20% more income than non certified medical coders according to the recent AAPC Salary Survey.
Holding this certification tells a prospective employer you have proven your ability to correctly read a medical chart, assign the correct diagnosis (ICD-9), procedure (CPT), and supply (HCPCS Level II) code for a variety of cases. Prior to attaining full CPC status one is considered a CPC-A (Apprentice) until the coder has two years of coding experience.
This also increases your chances of being hired or promoted in the fast growing medical industry.
The CPC Exam Details:
Length: 150 multiple choice questions (proctored)
Duration: 5 hours and 40 minutes
Price: $300
Includes 1 free retake
Open code book (manuals)
The CPC exam covers the following areas:
Anesthesia
Radiology
Medicine
Nervous
Endocrine
Digestive
Urinary
Musculoskeletal
Evaluation and Management
Anatomy and Physiology
Mediastinum & Diaphragm
Practice Management
Male/Female Genital
Hemic & Lymphatic
Maternity & Delivery
Eye & Ocular Adnexa
ICD-9-CM
HCPCS Level II
Coding Guidelines
Medical Terminology
Pathology
Integumentary
Respiratory
Laboratory
Approved Manuals
CPT books (AMA Standard or Professional editions only)
ICD-9-CM (choice of publisher)
HCPCS Level II (choice of publisher)
You can download a list of approved manuals for the CPC exam here.
Non-Approved Manuals
Due to additional information included in the following manuals, AAPC Does NOT allow these to be used during the examination:
Current Procedural Coding Expert® – Ingenix
Procedural Coding Professional – Contexo
Procedural Coding Professional – AAPC
Procedural Coding Expert – Contexo
Procedural Coding Expert – AAPC
CPT® Insider's View – AMA
CPT® Plus! – PMIC
Coders' Choice CPT® – PMIC
ICD-9-CM Easy Coder - Unicor
Requirements:
Associates Degree.
Pay exam fee when application is submitted.
Maintain current membership with AAPC.
All exams will be reported with exact scores and areas of study (65% or less).
No experience is required by the AAPC to take the CPC exam, however they do recommend a minimum of two years coding experience. Members without two years coding experience can take the exam, however, upon passing will be awarded the CPC-A apprentice designation until two years experience is gained.
Maintaining your CPC certification:
Membership to be renewed annually.
36 Continuing Education Units (CEUs) submitted every two years.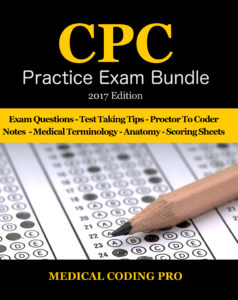 Overview
Product: CPC Exam Study Guide - 2017 Edition

What's Included: The CPC Exam Study Guide - 2017 Edition book includes 150 Certified Professional Coder question practice exam, answers with full rationale, Medical Terminology, Common Anatomy, Official Proctor To Coder Instructions, The Exam Study Guide, and Scoring Sheets.
Availability: In Stock - Ships USPS Mail 2-3 day delivery anywhere in the USA.

Price: $39.99